What is MitraClip?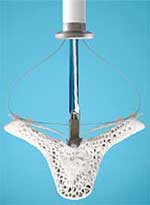 MitraClip is a minimally invasive procedure to treat patients with Mitral Regurgitation who are not eligible for the traditional open-heart surgery due to their frail condition. The procedure consists of a small clip that is delivered via a catheter and guided through a vein in the leg, which leads the device to the patient's mitral valve in the heart, allowing it to close more completely.
Mitral Regurgitation
Mitral Regurgitation is a condition in which the mitral valve in the hearts fails to close completely, causing blood to leak backwards into the heart. Causes for mitral regurgitation include age, a birth defect, or an underlying heart disease. Left untreated, mitral regurgitation places an extra burden on the heart and lungs, and may develop into heart failure or the enlargement of the heart, given that it has been forced to work harder to pump blood to the rest of the body.
The benefits of MitraClip
There are many ways in which MitraClip is more beneficial than the traditional open-heart surgery in carefully selected patients. Given that intermediate to high-risk patients may not do as well with open-heart surgery, MitraClip provides that life-saving alternative. It lowers the risk of heart failure, and improves quality of life. Most importantly, the MitraClip procedure provides a significantly shorter hospital stay, and a much more comfortable recovery.
Minimally invasive means you get home more quickly
MitraClip uses a catheter to help close the mitral valve. As opposed to traditional open-heart surgery, in which the chest is opened completely, the device used during MitraClip is inserted via a vein in the leg and led to the heart, where it is then led to the mitral valve. The device is then positioned, clipping the diseased valve leaflets together, and closing the valve to prevent backwards blood flow. The MitraClip begins to work immediately.
The surgery usually lasts 1-2 hours, and patients are typically discharged within 24 to 48 hours post-procedure.
The Florida Heart & Lung Institute is a patient-focused center in which every provider is dedicated to excellence. Dr. Charles Klodell MD and Dr. Thomas Zeyl MD, Cardiothoracic surgeons, offer a comprehensive range of services and specialize in heart and lung surgeries. They are especially interested in minimally invasive heart and lung operations. Having performed over 1,000 TAVR procedures, Dr. Klodell is considered one of the most qualified surgeons in his field. In addition to his extensive experience with TAVR, he is also an expert in minimally invasive methods of conventional surgical valve repair and replacement.